Description
Choumert Mews is a double terrace of 'cottages' facing one another across a shared access path, hidden in the heart of Peckham.
The location and size of the house presented many challenges, which called for many clever solutions.
One of the first hurdles to overcome was to insulate the home both thermally (the external bathroom wall was no more than timber frame with rendered lath and horse hair), and acoustically, as the client is a music therapy professor and keen pianist.
Choumert Mews
2011.02.25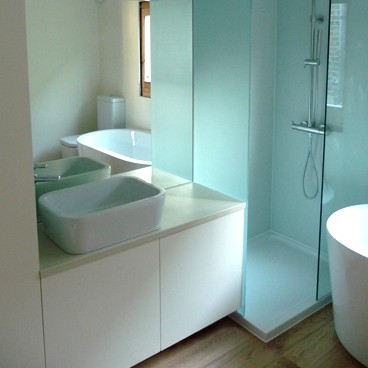 A deep, yet short, free-standing bath allowed for enough space to fit both shower, bath and toilet along the newly refurbished and thoroughly insulated back wall. A new oak floor was laid throughout the first floor into the bedroom. The poorly located boiler was moved from the bedroom and hidden within the new bathroom storage.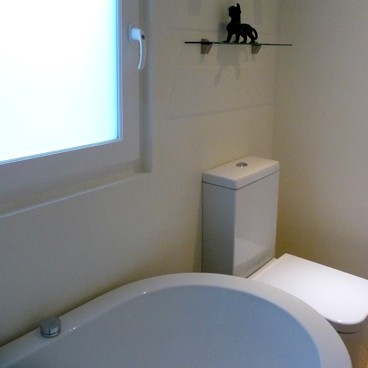 The elegant storage solution, provided by Roy Middleton, accomodated sink, mirror, shaver socket, spectrum changing LED lighting, bathroom and cleaning products as well as a stepladder.
Ideal Standard's click tap was installed as an environmental choice, its award winning design reducing water consumption through staged flow rates.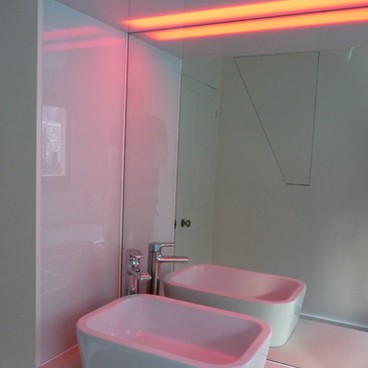 Further storage was created facing the toilet, for the boiler and bathroom products. Above the stairs a triangular cupboard used all remaining space. Below the stairs at ground floor level the stereo system hub was located, with inconspicuous speakers mounted in both the lounge and bedroom ceilings.