Description
Artist / jeweller and educator Hans Stofer approached friend Roy Middleton to create bespoke storage for his family home. Roy Middleton recommended Michael Tye Limited in collaboration with R J Vella to carry out the massive refurbishment in which his storage would fit.
This three-storey home had all three bathrooms refurbished at once. Elsewhere new 'period' radiators were installed, engineered oak floors were laid in the study, and used to connect the master bedroom with its en-suite.
Halls, stairs and landings were stripped and decorated over all floors, and to throw light down into the top stairwell a flat roof Velux skylight was installed.
The Stofer's - Balham
2007.11.05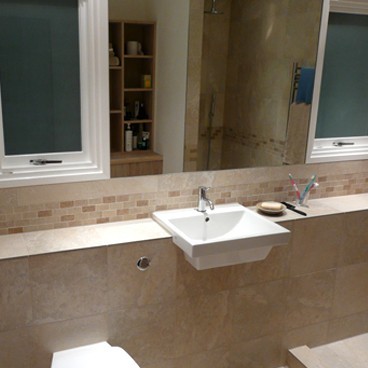 The master-bedroom design took a classic view, with a freestanding roll-top bath (colour matched with cabinetry and its back-painted glass surface), crystal chandelier, and Venetian cut glass mirror.
The family bathroom included a semi-wet room shower that eliminated the need for shower screens without a full wet room refurbishment. Two new double-glazed (with sand-blasted glass) windows were installed, bridged optically by one mirror.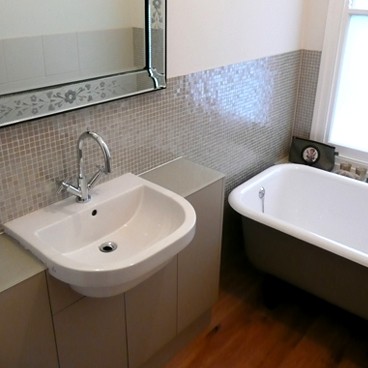 The top 'Thomas's' bathroom, was transformed from a dingy and dark room by installing a Velux roof-light. The bathroom door had its timber panels replaced with white laminate glass to allow daylight to illuminate the landing whilst the door was in use, and once again an existing window was replaced with a new timber double-glazed top-hung opener.