Description
Having called upon the client
for structural and decorative steelwork for previous projects,
it was great to have the opportunity to work on his
own home.
It was decided, with a second child on the way, to convert the box room into a sharp en-suite wet room.
Grant Mason
2011.11.05
The existing window was sympathetically bricked up, and the whole external wall and ceiling insulated to within an inch of it's life. The shared wall to the bedroom was also leveled plumb and acoustically insulated.
After taking the ceiling line up to meet the roof's pitch, much to the interest of the resident wasps, two Velux roof windows were installed to give lots of light and great sky views without concerns over privacy.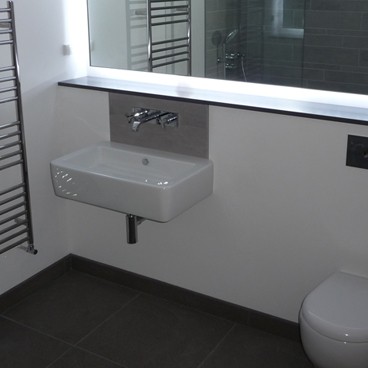 With the existing window no longer a consideration, full length boxing to accommodate the sink and concealed cistern ran the full length of the wall, with a bespoke back-lit mirror running above.
The full length stone shelf was supplied by Joss Smith.
A large Wedi shower tray was installed, with insulating Wedi boards throughout the sub-floor, to aid in the efficiency of the electric underfloor heating system. A fixed free-standing panel of bespoke toughened glass was installed to contain spray.